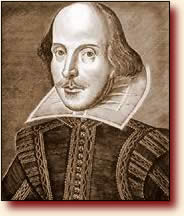 William Shakespeare
1564-1616
Features
concordance

keyword search

advanced search

statistics
Plays
by genre

by number of words

by number of speeches

character list

character search
Sonnets and Poems
individual sonnets

sonnets compared side-by-side

all sonnets

all poems
More than just a collection of texts...
Open Source Shakespeare attempts to be the best free Web site containing Shakespeare's complete works. It is intended for scholars, thespians, and Shakespeare lovers of every kind. OSS includes the 1864 Globe Edition of the complete works, which was the definitive single-volume Shakespeare edition for over a half-century. READ MORE...
Why use Open Source Shakespeare?
This site was built with four attributes in mind: Power, Flexibility, Friendliness, and Openness. It won't replace the expensive, subscription-only sites at libraries or research institutions, but you can use the advanced search function, read the plays, and look up words in the concordance.
From June 2006 to February 2016, Open Source Shakespeare hosted over 10 million unique visitors, who logged over 46 million page views.
Users performed about 3 million searches from September 2012 to February 2016.
Most visitors were from English-speaking countries (U.S., U.K, Canada, Australia), with Western European nations contributing a significant portion of the traffic. In addition, a large number of visitors came from non-European countries such as Brazil, China, Egypt, India, and Turkey.
See how the site was built, and how it works
Read the paper (part of an M.A. thesis project) describing OSS's construction, as well as a history and analysis of the Globe Edition's texts. Visit this page to see how the database is built and how the texts are moved into the OSS database. Download the source code and database and use it in non-commercial projects of your own.
Quotation of the moment
A man can die but once.

— King Henry IV. Part II, Act III Scene 2
Questions and suggestions
The site management is always glad to hear from you: mail@opensourceshakespeare.org